TestsystemBookings are only simulated. No real payments will be made.

Fast and discrete
100% secure

Clear and transparent
settlement

Absolute
data protection
NetDebit® Online Payment:
Benefit as a portal operator
Would you like to have more traffic on your page? Then you too can profit from our 730,000 customers by settling your accounts via NetDebitŪ!
Fast and secure payment
NetDebit® guarantees maximum security in the payment process, as well as data protection and privacy
Protection from non-payment
NetDebitŪ minimizes your risk from non-payment by comparing the data with our internal black list and our offer of cancellations free of charge.
Low costs
NetDebit® charges no registration or set-up fees and no basic monthly fees.
In addition to a turnover-dependent percentage premium, no further costs are incurred.
Pay securely with Netdebit
on the World-Wide-Web
Data protection naturally has the highest priority for our NetDebit® payment system!
No matter which offer you plan on using: You are only a NetDebitŪ customer.You will thus remain anonymous to the service provider. NetDebitŪ only stores and processes your personal data for accounting purposes and will certainly not forward this information to third parties!Paying at NetDebitŪ is simple and secure - regardless of which form of payment you would like to use ...
Certified Managementsystem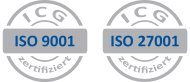 Verified Security
Available Payment Methods